Who We Are
The Ottawa Animal Emergency & Specialty Hospital (OAESH) is the first hospital of its kind, a 24-hour emergency and specialty veterinary facility serving Ottawa, Gatineau and surrounding areas. Please call 613-745-0123 in advance of your arrival. We welcome emergency transfers and walk-in patients from all clinics in the region. Specialty services may require an appointment with the appropriate specialist.
Our state-of-the-art 9,500 square foot facility is located in central Ottawa, just off Highway 417 at Vanier Parkway.
Our expert team
Find out more about our team of experts who can help you with your pet's emergency needs below.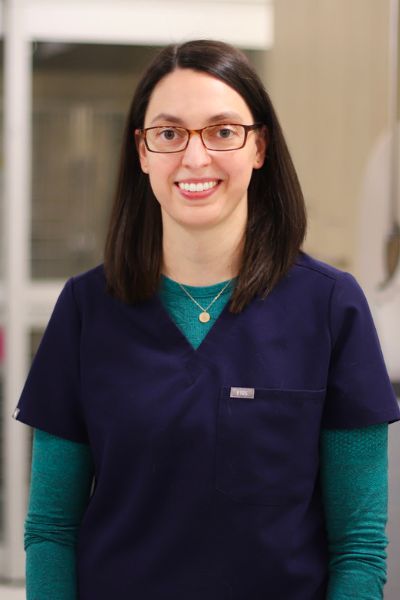 Dr Patricia Biello
Dr. Patricia Biello is a graduate of the American College of Veterinary Emergency and Critical Care (ACVECC). Dr. Biello obtained her Doctorate in Veterinary Medicine from the University of Montreal in 2009. She then completed an internship (2010), followed by a specialty internship in emergency and critical care (2011) at the "Centre Vétérinaire Rive-Sud" on the south shore of Montreal.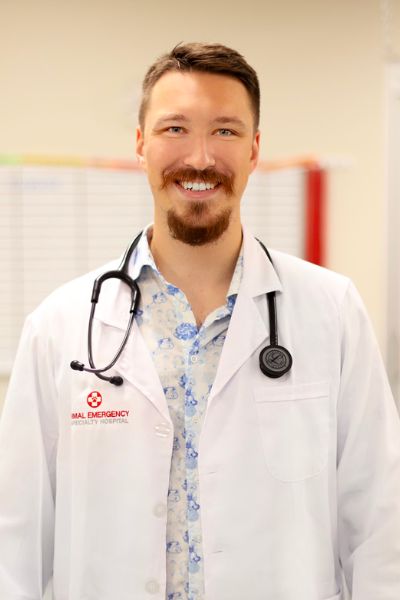 Dr Charles Boisclair
DVM MSc
Ottawa veterinarian Dr. Charles Boisclair graduated from the Université de Montréal in 2016. He then completed a rotation in 2017 at DMV Lachine, a private practice in Montreal. He then completed his specialty rotation at the University of Guelph in 2018, where he was responsible for the radiation therapy department. Following this internship, Charles moved to Saskatoon, Saskatchewan…
The clinic
We have a fully equipped veterinary emergency and intensive care centre, capable of treating dogs, cats, exotic animals (including birds and reptiles) and seriously injured or ill pets. The spacious 9,500 square foot hospital includes the following:
A large, comfortable waiting room with refreshment facilities and separate areas for cats and dogs.
Television and free wi-fi
A full surgical suite with state-of-the-art anaesthetic and monitoring equipment
An intensive care unit, including a special cage for animals requiring supplementary oxygen
Digital X-ray
Ultrasound
An incubator for sick birds
A quiet room for patient visits, including end-of-life visits
Large, well-lit parking lot directly in front of the clinic, with stairway and ramp access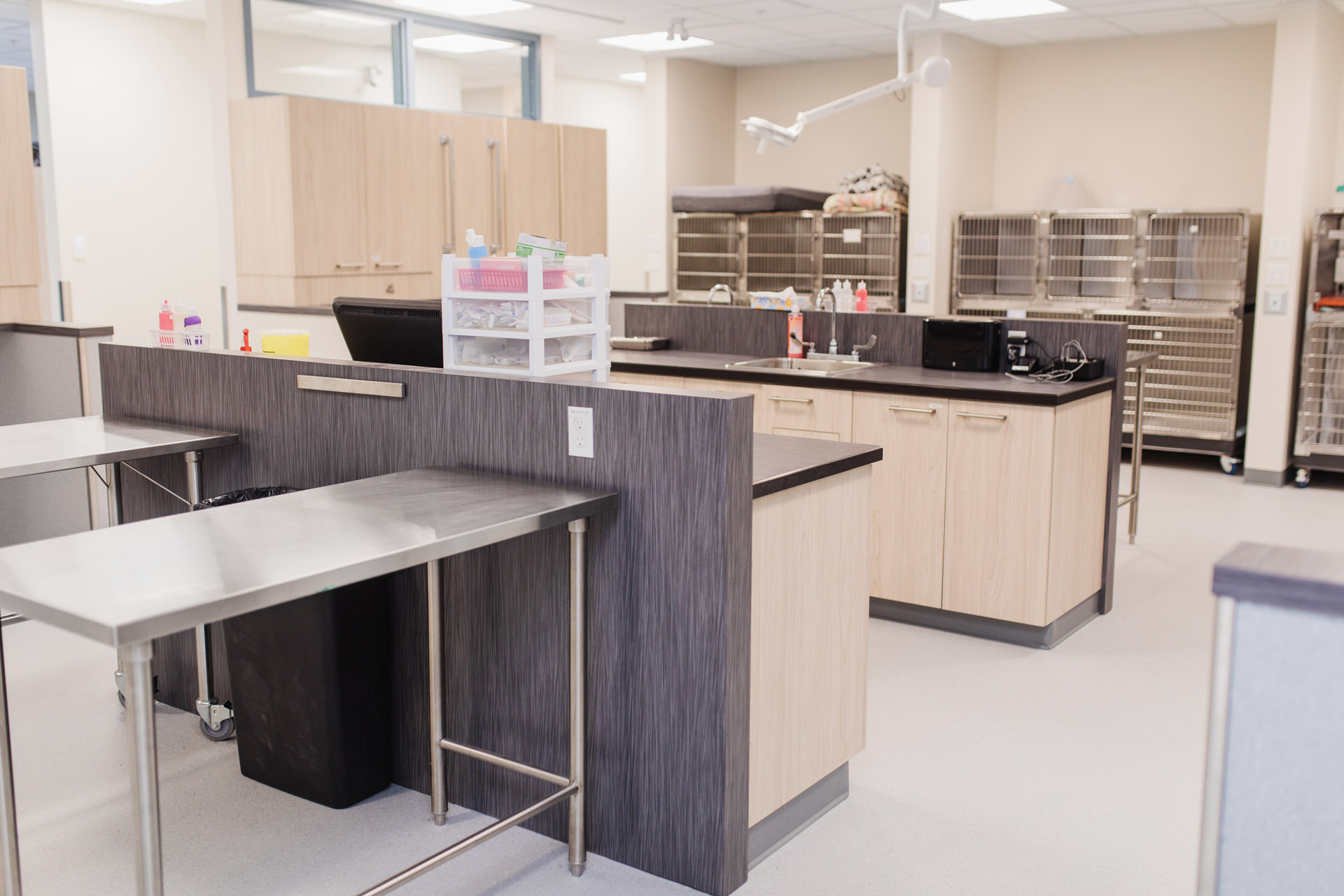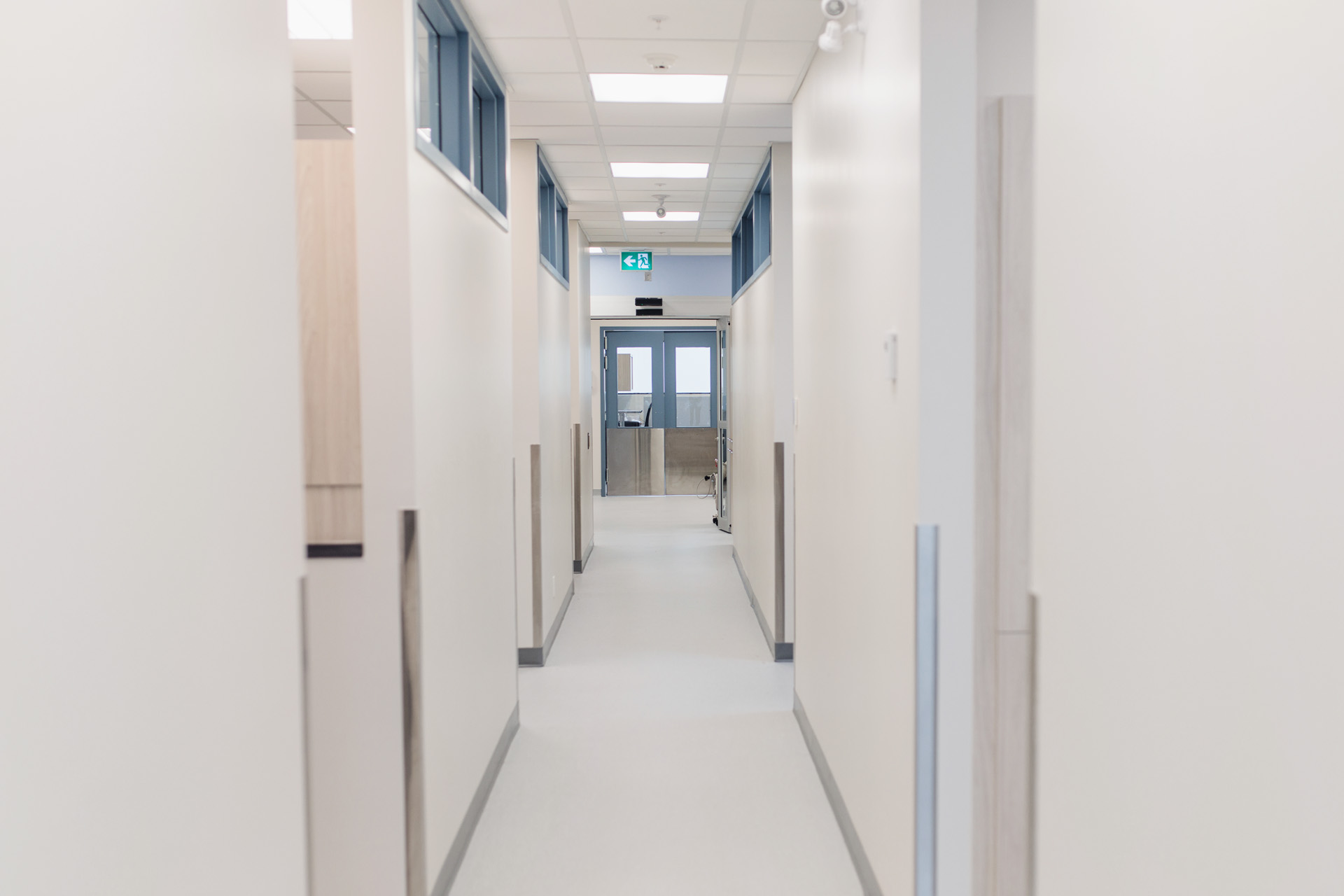 What to expect in an emergency
1. Check-in and first assessment
When you arrive at the Animal Emergency and Specialty Hospital and check in at the office, your pet will be immediately triaged by one of our Registered Veterinary Technicians (RVT) and brought to the attention of the attending emergency veterinarian.
Depending on the severity of the emergency, your pet may be taken directly back to the treatment room for evaluation and stabilization, or both of you will be taken to an exam room for a history and primary assessment of your pet's condition. If the emergency is not life-threatening, you may be asked to wait in the waiting room until the veterinarian has treated more critical patients.
When you visit us, you will be given frequent updates on your pet's waiting time and status.
Once your pet has been assessed by the veterinarian, you will receive an explanation of your pet's condition, a treatment plan (including recommended diagnostic tests) and an estimated financial estimate for care.
2. Estimated financial quote and 75% down payment
At this point you will be given the opportunity to discuss the plan with the veterinarian, and once you have agreed upon a course of action, you will be asked to leave a deposit of 75% of your projected expenses. As your pet is treated, every attempt will be made to contact you and discuss potential changes to your animal's condition and the treatment plan, as well as the cost of these potential changes.
Your pet may be admitted for the day or the night for in-hospital care, at which point you may be advised to return home. In some cases, the veterinarian may ask you to remain in the hospital pending preliminary test results that may change the differential diagnosis, prognosis, and course of action.
3. Authorisation form and hospitalisation
As soon as you sign the treatment plan authorization form and leave the deposit, your pet will be placed in a clearly identified cage in which they will remain for the duration of their stay.
Your pet may be admitted during the day or night for hospital treatment, in which case you may be advised to return home. In some cases, the veterinarian may ask you to remain in hospital pending the results of preliminary tests which may alter the differential diagnosis, prognosis and course of action.
4. Leave no personal belongings behind
Other than their personal collar, please do not leave any personal belongings with your pet. Objects left in cages are washed every day, which increases the risk of your belongings being lost or damaged. Our hospital provides blankets and leashes, and we will make sure that your pet is as comfortable as possible at all times.
5. Pet diet and medication
If your pet requires medication or a special diet, please bring it to our attention and provide us with the detailed information. If your animal doesn't need a special type of food or if the required special food is available at the hospital, we will provide it.
6. Working as a team with your primary veterinarian
The morning following your visit, our staff will notify your primary veterinarian. Full records, including digital radiographs (Xrays) and blood test results will be instantly available to them.
7. Morning transfer of care
If your pet has been admitted for the night for treatment and requires additional in-hospital care, three options will be offered to you, pending the medical condition and its severity: 1) It may be recommended that you leave your pet with our emergency staff, who are present during the day 2) It may be recommended to transfer your pet to a specialty service (e.g. surgery, internal medicine, etc.) for further assessment and specialized care, or 3) You may ask for a transfer back to your primary-care veterinarian.
8. Diagnostic and treatment procedures
After admission, we will proceed as soon as possible with the required approved procedures tailored to each patient and their condition (e.g. laboratory testing, thoracic or abdominal radiography, partial thoracic or abdominal ultrasound, pain medication, IV fluid therapy, emergency surgery, etc.). As with human emergencies, sick animals are treated in order of priority. If your pet is in critical condition, they will require immediate treatment, whereas a stable pet may have to temporarily wait their turn while sicker pets are cared for.
9. Patient record and treatment sheet
Once your pet is admitted, the veterinarian will inform the registered veterinary technicians as to which tests need to be done first, which parameters need to be monitored closely, and what treatment is required. Test results and other information will be recorded on a treatment sheet identified with your pet's name. Our certified technicians are competent and devoted to your pet's care and comfort. They have frequent and direct contact with hospitalized pets and their owners, as the technicians represent a crucial link between owner and veterinarian, and are under the direct supervision of the veterinarian(s) on duty.
10. Daily updates and follow-ups
Every hospitalized animal is fully examined at least twice a day by the veterinarian involved with the case. These examinations help the veterinarian evaluate the progression of the animal's initial problem, and monitor changes that could have occurred during their hospitalization. At each veterinarian shift change, every case is discussed and transferred.