24-hour Emergency
The Ottawa Animal Emergency & Specialty Hospital (OAESH) provides emergency veterinary services in Ottawa 24 hours – 6 days a week (Temporary Summer Hours), without an appointment. Please call 613-745-0123 in advance of your arrival. The Emergency Department is an extension of the primary care provided by your regular veterinarian. The OAESH Emergency and Critical Care team is always ready for you and your pet.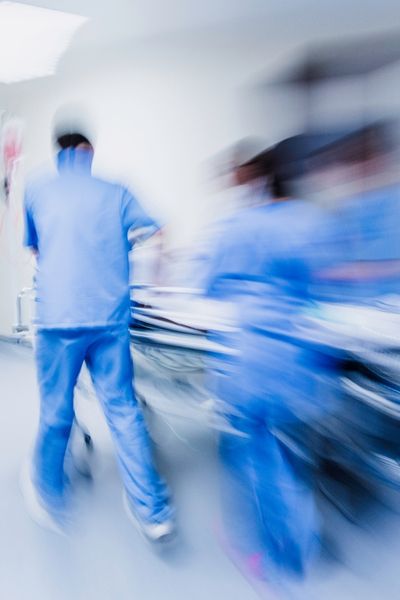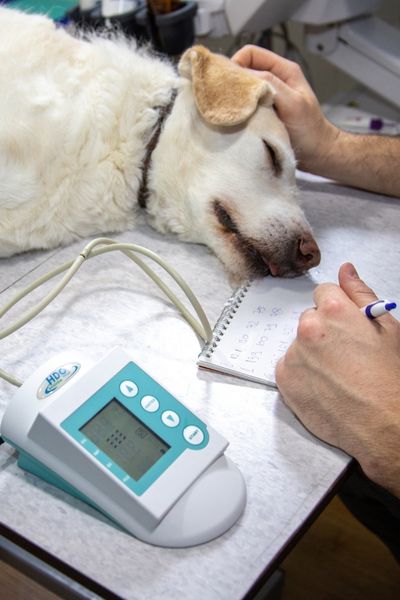 Case transfers by primary veterinarians
We work together with your primary care veterinarian to provide your pet with the best critical medical and surgical care. You may be referred to us over the night for an emergency or during the day for advanced diagnostic and therapeutic procedures. OAESH functions as an emergency hospital and an after-hours intensive care unit for animals transferred from their regular veterinarian. Pets that are seriously ill or recovering from surgery can also be transferred here for ongoing care throughout the night and on weekends.
No appointment necessary
You can come in anytime, as our 24-hour emergency veterinary services operate without an appointment.. Please call 613-745-0123 in advance of your arrival. You will see a veterinarian as soon as possible, depending on the nature of your pet's illness or injury. Our facility is designed to allow your pet to be comfortable and closely monitored during their hospital stay and to receive state-of-the-art medical care. Specialty services require appointments. Your veterinarian or our emergency veterinarians can send referrals or requests for advanced feedback and recommendations in managing your pet's condition. For more information on seeing a specialist, please contact the specific department.
Emergency surgery service
Our Ottawa Animal Emergency Department is well equipped to handle emergency procedures of all types, and our emergency veterinarians are experienced in all kinds of emergency surgeries (e.g., gastric torsion, hemorrhagic splenic mass, bladder stones, cesarean sections, pyometra (infected uterus), removal of foreign bodies from the stomach and intestines).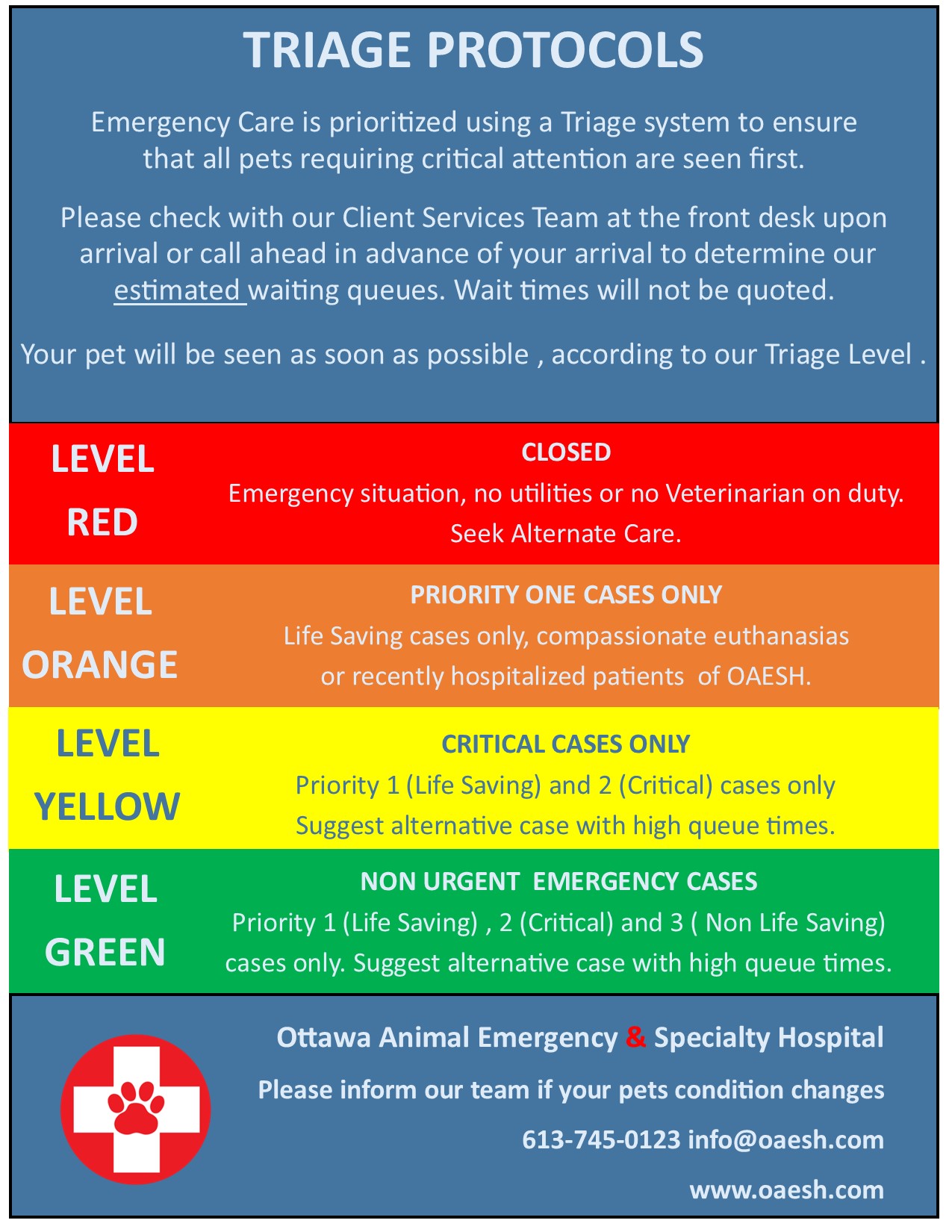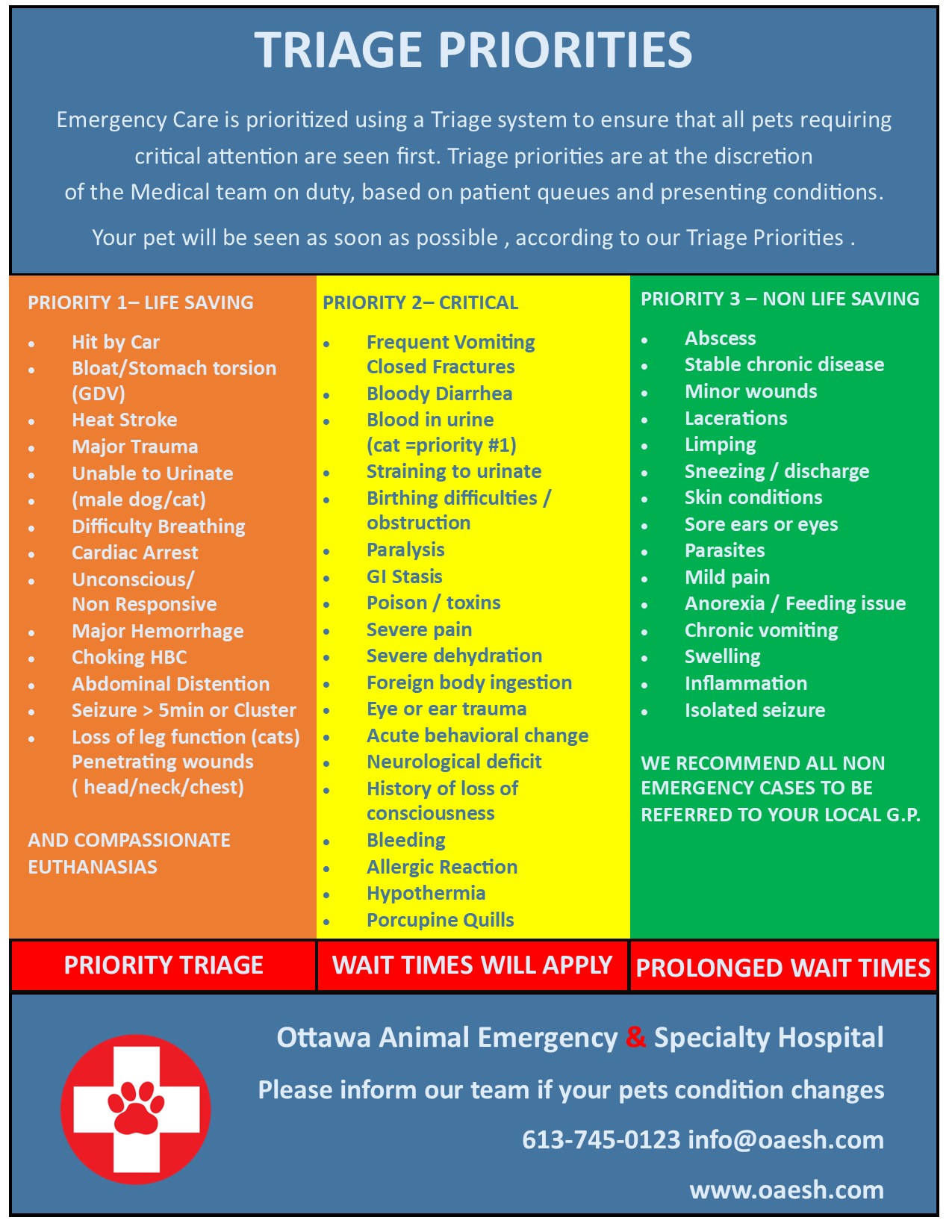 Frequently asked questions
Does OAESH provide preventive medicine and primary care for pets?
No. Our hospital is an extension of your primary veterinary team, which we call the "referring veterinarian." We do not administer vaccines, sell preventive antiparasitic medications, or sell maintenance veterinary regimens. Your primary veterinarian is the primary animal health professional for the life cycle of your pets. We are here to help you with emergencies and critical or complicated conditions that may, unfortunately, arise at some point in your pet's life.
What is a veterinary emergency and intensive care hospital?
If your pet is injured or suddenly develops an acute life-threatening illness, it will need prompt emergency care. In addition to requiring initial emergency interventions, the disease process may take several days to run its course before recovery occurs. During this time, close monitoring and life-support measures may be required. A vigilant emergency team will provide compassionate and comprehensive care to achieve the best outcome for your pet.
How do I know if my pet needs an emergency vet?
Any seriously ill animal could benefit from this type of care!
During regular opening hours, call your primary care vet, who may be able to deal with the emergency or will refer you directly to the OAESH. After hours, please contact our emergency team for help and advice.
Animals that have been bitten or lacerated.

Trauma patients, including those hit by cars, bites, bullets, stab wounds or burns.

Any animal that has difficulty breathing.

Anemic animals that require blood transfusions.

Any patient in shock (signs of shock may include weakness, pale mucous membranes in the mouth, cold extremities such as feet and a very rapid heart rate).

Animals that have difficulty urinating or do not produce urine when squatting.

Dogs and cats that need specialized nutritional support (temporary feeding tube) because they are unwilling or unable to eat on their own.

Animals with abnormal heart rhythms that cause problems.

Animals with life-threatening neurological diseases, such as coma or severe seizures that do not respond to medication, or animals that cannot walk properly or appear sore.

Patients who have undergone surgery that are not recovering well from the anaesthetic or are experiencing difficulties in the first few days post-surgery.
Referral Form
'*' indicates mandatory field
Please download the documents related to your pet's health.