Dr. Romain
Javard
DMV, DES, MSc, Dipl. ACVIM (Internal Medicine)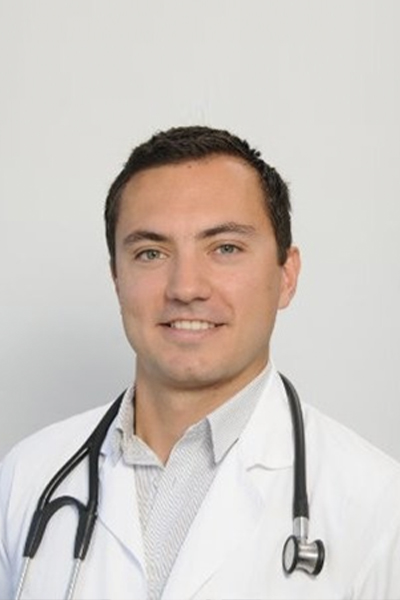 Dr. Romain

 
Javard
DMV, DES, MSc, Dipl. ACVIM (Internal Medicine)
Dr. Romain Javard will be joining OAESH as our interim Internal Medicine specialist and will also be providing Cardiology services. 
Dr. Javard graduated from l'École Nationale Vétérinaire de Toulouse (France) in 2011. He did a small animal rotating internship in medicine and surgery (IPSAV) at the University of Montreal in 2012. He completed his training with a 3 years residency program in small animal internal medicine and he is a diplomat of the American College of Veterinary Internal Medicine since July 2015. From 2013 to 2015, he combined this residency program with a scientific master's degree on feline chronic kidney diseases at the University of Montreal.  Due to his interest in nephrology, he was the investigator of a research project in this field, aiming to better understand the pathophysiological mechanisms underlying chronic kidney disease in cats.
Through his internal medicine residency, he has acquired the necessary skills to perform minimally invasive procedures for his patients, especially for the treatment of urinary diseases (cystoscopy, stone removal, stone fragmentation by lithotripsy, treatment of urinary incontinence, sub-cutaneous ureteral bypass for the treatment of ureteral obstruction in cats, bladder biopsies) or respiratory conditions (bronchoscopy, treatment of tracheal collapse in dogs). These techniques may help to avoid surgery, and often offer faster recovery time than with conventional procedures.  
Dr. Javard also has an interest in cardiology which led him to improve his skills in this area during his residency. He is the author of scientific publications in cardiology, especially on echocardiographic detection techniques of sub aortic stenosis in Golden Retriever puppies, in partnership with Quebec breeders. In August 2015, Dr. Javard joined the Internal Medicine team at Centre DMV, where he practices as a specialist in internal medicine and offers Cardiology consulting services at DMV Centres in Montreal and now in Ottawa at OAESH.